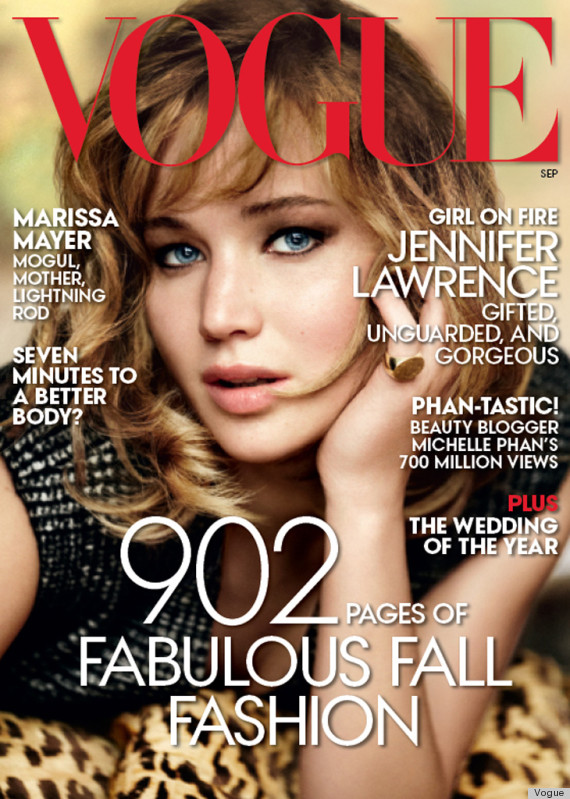 Jennifer Lawrence has landed her first Vogue cover! Not only that - she nabbed the cover of the coveted September issue. Hollywood's "It" girl got her start at 14 when a model scout photographed her in New York's Union Square. In the issue, Jennifer talks about deciding to be an actress and why she chose to do the Hunger Games films.
"When 'Winter's Bone' was getting nominated [for an Oscar] I had only done indies, and suddenly I was introduced to this brand-new world where I didn't feel like myself. I was in these weird gowns and listening to people talk about things I didn't understand. And I remember reading that in [The Hunger Games] and being like, Oh my God, I know exactly what this feels like. I don't know what it's like to get ready for your death, but I do know what it's like to be almost a puppet. And then when I was making the second film, I had become more acquainted with that world, and I think that's something that Katniss experiences. She is different when she comes back [in 'Catching Fire']. She does feel more comfortable in the Capitol; she understands the people more, and it's not as eerie and scary and unfamiliar. She kind of knows how to work the system."
We love Jennifer and can't wait to pick up the issue, hitting stands August 20th!